With Transloader 3 finally publicly available, I'd like to invite you on a tour through the app and its functionality.
In Part II, we dove into Transloader's iOS companion app, but left out Siri Shortcuts.
That's where this Part III comes in – thank you for joining me again, I'm so happy to see you here!
Table of Contents
Part III – Transloader's Siri Shortcuts on iPhone and iPad
There are three Siri Shortcuts Transloader offers.
1. Get Status of Transloader on <Mac>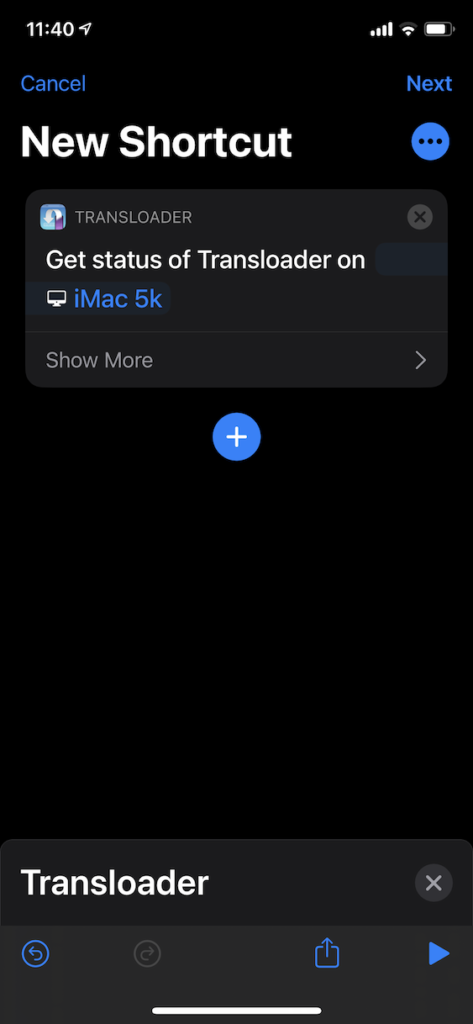 The purpose of this shortcut is simple: to be able to conditionally run subsequent actions, based on its result.
It returns a boolean value (YES or NO), depending on whether Transloader on the selected Mac is running or not, and that the selected Mac is turned on (as in, not sleeping and not turned off).
For example, you could build a "priority" download workflow:
If Transloader on my iMac at home is available, download the link on my clipboard there.
However, if it is not, download it on my MacBook Pro instead.
This is what that looks like in Shortcuts.app: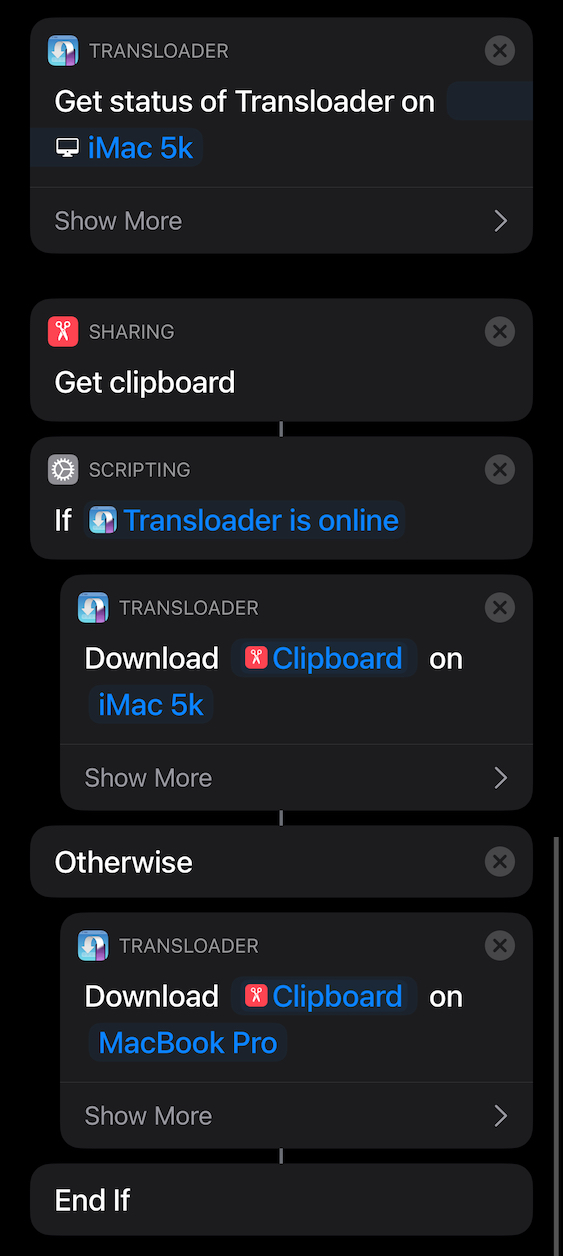 Which brings us to shortcut number…
2. Download <Link> on <Mac>
As is shown in the screenshot above, this shortcut assigns the passed-in link to the Mac you select for download.
An error is returned if the passed-in link is invalid.
This shortcut is especially useful if you don't pre-select a Mac, but select "Ask Each Time" instead, which will then let you dynamically choose a Mac whenever you run it. More on that below.
For now, let's move on to the third shortcut Transloader offers:
3. Save <Link> for Later
If you'd just like to save a link in Transloader so you can assign it at a later time, this is the shortcut to do it.
Shortcuts as Widgets (iOS 14 and newer)
This is more a feature of Shortcuts.app than Transloader, but it's still nice to know.
Most of the shortcuts you have saved in Shortcuts.app can be saved as a Widget on your Home screen.
I have one titled "Download Link On…", which retrieves the link on my clipboard and then asks me which Macs I'd like to download it on.
Here it is in action:
I like to use this shortcut with either the iPhone's back-tap feature, or with Siri:
Shortcuts as Siri Voice Commands
A shortcut's title is also a voice command for Siri. So when I'm browsing, I'd just copy a link, bring up Siri and tell her to "Download Link on…", and Siri will ask me to choose a Mac:
Summary
Now you know how to use Transloader's Siri Shortcuts to your advantage, and build potentially powerful download workflows.
Please do join me next time, when we'll check out Transloader's Preferences and Settings.
Just when you thought things couldn't get more exciting than this!
Links
Transloader Website (with a free, 15-day trial for Mac)
Transloader on the Mac App Store ($4.99 / €5.49 for a limited time)
Transloader on the iOS App Store (free)
Transloader Usage Tips