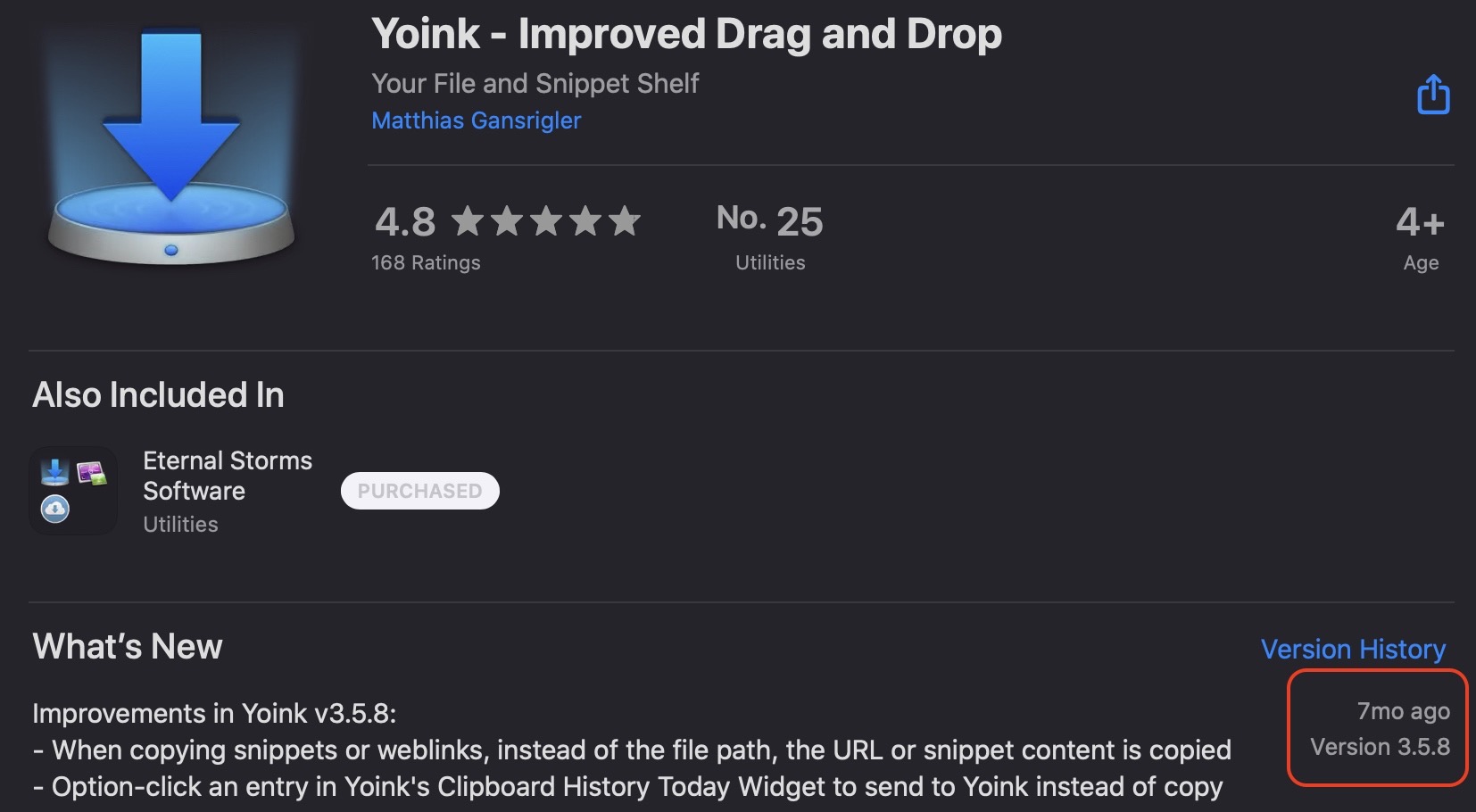 7 months. I look in disbelief at the Mac App Store's timestamp of Yoink's last update, and I'm deeply embarrassed.
As a user, I'd think the app is abandoned. As its developer, I know that's not true, because soon after I'd released v3.5.8 of Yoink for Mac, I began working on the next one:

The user, however, doesn't know.
The situation isn't any better for Yoink for iPad and iPhone, either, where the App Store states 5 months since the last update (v2.1.6).
Here, too, I began working on its subsequent update the day after submitting it to the App Store:

I cringe even mentioning ScreenFloat (10 months), flickery (11 months), Glimpses (11 months), or Transloader (5! years!).
The problem, I think, is that I do not plan ahead much. I give my attention to the app that – in my view – currently needs it most (which has been mostly Yoink for Mac, and Yoink for iPad and iPhone lately), and whenever I feel the update is done (an arbitrary line I draw spontaneously most of the time), I release it and move on to the next app (or the same one again, if need be).
I want – and need – to do much better here.
So here's how I'd like to improve:
Release what's ready once a month
If there have been changes made to apps and those changes are ready for prime-time, release the updates
Unless absolutely necessary, after an update, move on to the next app, not keep working on the one I just released an update for
Aside from the positive effect of giving other apps the attention they need and deserve, it also reduces the possibility of me getting burnt-out working on the same app all the time
Be more vocal about what's going on
I should be more transparent about what I've been and am working on – it's fun to share!
Here's hoping. Thank you all for bearing with me 🙂